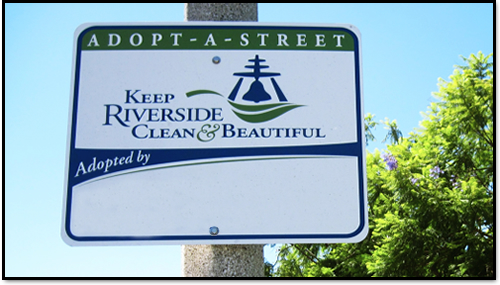 Your name could be on this sign!
While driving through the City of Riverside you are sure to see the Adopt-A-Street (AAS) signs placed at over 100 various streets. They are adopted and cared for by community volunteers. Keep Riverside Clean & Beautiful (KRCB) offers two ways to adopt a street in the City of Riverside; you can sponsor with an annual donation of $650, or volunteer to cleanup a street six times a year.
Sponsored Adopt-A-Streets
Altura Credit Union
Arlington Business Council GRCC
Athens Services
Bourns, Inc.
Burgess Moving & Storage
Burrtec Waste Industries, Inc.
Clark Grading, Inc.
DiGerolamo Family Insurance
Downtown Business Council GRCC
East Hills Business Council GRCC
HDR Engineering
Home Instead Senior Care
Hunter Park Business Council GRCC
In Memory of George & Mary Weimer
In Loving Memory of Jeremi Kehnt
In Memory of Heather and Timathea Filiar
Invitation Homes
James Monks, Realtor
Junior League of Riverside, Inc.
La Sierra Business Council GRCC
Lexus of Riverside
Magnolia Center Business Council GRCC
Mark E. Harris, D.D.S.
McCoy and Associates; Ameriprise Financial Services, INC.
Parkview Community Hospital
Pepsi Beverages Company
RC Earthworks, Inc.
Riverside Adult School
Riverside Medical Clinic
Sarah & Tracey Ayala Real Estate
Shirley DeHart Real Estate
Shrimad Rajchandra Mission
Stronghold Engineering
The Toro Company
Thompson & Colegate
Tonkin Plumbing
Volunteer Adopt-A-Streets
If you prefer to be hands on with volunteer stewardship by caring for our City, then you and your team are a perfect fit for the volunteer AAS program. You may work as an individual, family, friends, schoolmates or workmates. Your team will help keep our roadways, storm drains and street signs free of litter and graffiti. KRCB will loan you tools, vests and gloves to get the job done and you can schedule you own dates six times a year.
Learn more about the Adopt-A-Street program, click here for details:
Are you ready to sign up?
Already volunteer with an Adopt-A-Street?
Track your progress by completing a Report Form after each cleanup.